April 13, 2012
IST Lecture: Hannah Monyer "Studying Interneurons at the Cellular and Network Level"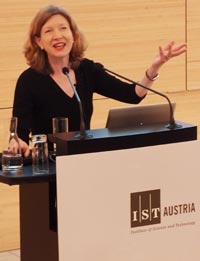 On April 12, 2012 IST Austria had the pleasure to welcome Hannah Monyer for an IST Lecture. Prof. Monyer is Head of the Department of Clinical Neurobiology and the Interdisciplinary Center of Neurosciences of the University of Heidelberg and has received a series of prestigious awards for her research. In her lecture, Prof. Monyer talked about "Studying Interneurons at the Cellular and Network Level".
As her scientific work focuses on GABAergic interneurons in the hippocampus, a brain region involved in spatial representation and memory, she presented her studies on the role of GABAergic neurons in long- and short-term spatial learning by interfering in their recruitment. In her talk she illustrated how her research group study connectivity of GABAergic interneurons using optogenetics, a revolutionary method switching neurons "on" or "off" using light.
More than 130 people visited IST Austria to see Prof. Hannah Monyer in the Raiffeisen Lecture Hall. Her interesting lecture was concluded by a lively discussion among the audience.